---
Laura San Nicolas, LMFT, CEAT
Anxiety Treatment for Mind, Body and Soul

---
Are you more than just your symptoms?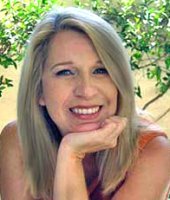 Of course you are!
As a holistic psychotherapist, I am dedicated to addressing the whole person in my work, not just the bad stuff. In a comfortable atmosphere of humor and respect, I work to kindle each client's inner knowing and innate creativity (I promise, you have some) to learn to combine understanding with new ways of thinking, to change old habits and embrace new ones.
Together with my clients, I concentrate on achieving health and happiness along with symptom relief, addressing any imbalances in each client's life that may be contributing to their distress.
My goal is to help each client achieve the tools necessary to create and live the kind of life they really want.
---
Education
A graduate of Pepperdine University's Graduate School of Education and Psychology, I received my license in Marriage and Family Therapy (MFT 34091) in 1996.
In December 2008, I received certification as an Expressive Arts Therapist by The Expressive Arts Institute in Newport Beach, California. Expressive Arts Therapy uses a wide variety of creative modalities, from fine arts to drama, intuitive arts, movement, music, sandtray therapy, and writing. The real beauty of using the expressive arts in therapy is that it speaks directly to the soul, allowing deep change without depending on words or insight alone. No artistic talent or experience is necessary to benefit from expressive arts therapy.
In 2004, I became a Soul Memory Discovery Practitioner. Soul Memory Discovery is an energetic mind-body healing modality that gently and swiftly allows dynamic healing in the mental, emotional, physical and spiritual bodies. It is applicable to all issues and is particularly valuable for healing trauma or life situations in which the individual feels "stuck." Soul Memory Discovery can be utilized as an adjunct to traditional therapy, or as a treatment in itself.

I am an enthusiastic learner and am regularly involved in continuing my education to bring the most effective and up-to-date information to my clients.
I am an active clinical member of the state and local Orange County chapter of the California Association of Marriage and Family Therapists (CAMFT).
---
Experience
I have been in private practice in Laguna Beach, California since 2001, and have worked with adults, couples, adolescents and children. Although I treat a wide variety of issues, my specialty area is treating Anxiety Disorders of all types, with an emphasis on mind, body and soul connections.
Previous to opening my own private practice, I served as Co-Founder, Executive Director and President of a California 501c3 non-profit agency, which continues to provide school-based counseling services to children (K through 12) and their families, in Orange and Los Angeles counties.
My background extends to business, communications, and the arts.
---
Appointments
Are you ready to end your anxiety?
Appointments are available at my office in downtown Laguna Beach, Tuesdays through Fridays.
Not local? If you are a California resident, teletherapy may be an option, by phone or internet anywhere in the state.

Call me direct at 949-468-8997 today for a free phone consultation today, or click here to contact me through this site.
 Insurance questions? I work as an out-of-network provider with most PPO plans. I'm happy to give your insurance company a call to check on benefits, and file any applicable insurance claims for you to make your therapy experience as stress free as possible.